Bombay Samachar Mumbai Newspaper Advertisement Online Booking
Bombay Samachar Mumbai Newspaper Advertisement Online Booking
---
Mumbai

AD BOOKING
---
Select Your Ad Format :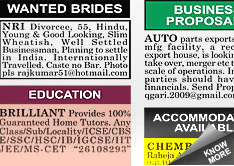 Simple text format of advertisements charged on the basis of the number of words, lines or characters used in the ad matter. Enhancements like a tick, border, color, and bold fonts can be used in this pocket-friendly and economical form of advertisement.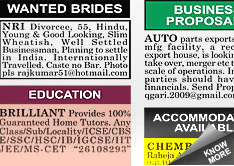 A better way to exhibit advertisements in newspapers which include catchy graphics, image, logo, colour, fancy font making ads more visible to the readers. This great way of advertisement that helps the advertisers to grab the attention of the target audiences is changed on the basis of per sq.cm unit.
---
Select Your Category For Bombay Samachar Classifieds below :
SELECT AD CATEGORY
---
Advertisement Section
Publishing Days
Booking Deadline
Bombay Samachar Mumbai
All Days
2 day(s) Prior
Ad Categories: Matrimonial, Property, Recruitment, Public Notice, Obituary, Education etc.
F.A.Q
Frequently Asked Questions
Publishing an ad in Bombay Samachar Mumbai can be done in just a few steps with our online platform at an affordable rate.
To publish an ad in Mumbai just follow the below steps:
Select category & Ad Format- You need to select a suitable ad category on which you want your ad to be published. Select the format as per your convenience from classified text, Classified Display & Display.
Choose Edition- Specify the location as Mumbai.
Compose Ad Matter- Draft your ad by selecting the right sub-category.
Add Enhancements- You can make your ad more captivating by adding color, border or tick to your ad. This is optional and depends completely upon your choice and preference. Before finalizing the ad matter,proofread your ad to avoid any mistakes. You can also verify it with our exclusive Live Preview Ad Feature.
Select Dates & Make payments- The final step is to select the release dates and move ahead to clear the payments via online and offline methods.
Post receiving editorial approval your ad is now ready to be published in Bombay Samachar Mumbai.
The ad rates for Bombay Samachar Mumbai varies on the basis of category and ad format you choose. The rate for a tender ad is different than the rate of a recruitment ad in Mumbai.
For example if you wish to book a property text ad in Mumbai, .
In order to have a complete idea on the ad rates, select a category and view the rates for Mumbai edition.
The ad packages differ on the basis of Category you choose. Based on the choice of publication you can avail exclusive offers and exciting discounts.
For example you can avail a 10% discount on combined booking on Bombay Samachar Mumbai
To know more select the category of your choice and find out exclusive offers and packages assigned for the publication.
You can book your classified advertisements in Bombay Samachar newspaper through our agents. We are an INS authorised Advertisement booking center for Bombay Samachar. We provide the best deals, offers and exclusive discounts at affordable rates with each ad booking. Each edition of the Bombay Samachar has a separate booking centre to enable direct classified ad booking in the concerned newspaper. You can find the contact details mentioned for each centre in order to get your ad booked in that specific edition or location in the link here.
Reasons
Why advertise in Bombay Samachar Mumbai
releaseMyAd.com is an INS accredited & India's Most Used Online Classified Ad Booking Portal. No need of wasting hours searching for Bombay Samachar ad agency in Mumbai when you can do the same online at lowest cost.
releaseMyAd gives the unique opportunity of booking classified ads in Bombay Samachar Mumbai at lowest rates from anywhere at any time of the day.
Enjoy discounts and exclusive rates for Bombay Samachar Mumbai only when you choose to book ads Bombay Samachar Mumbai online through releaseMyAd.
Book your Bombay Samachar Mumbai advertisement Now !
View Bombay Samachar Ad Rates for Mumbai:
ADVERTISEMENT RATE
---
S. No
Ad Section
Publishing Days
Ad Rate Starting From
Details

1

PUBLIC NOTICE AND TENDERS

0

Rs.

550 /sqcm
VIEW DETAILS
Booking Process
Bombay Samachar Mumbai Ad Booking Processs
Booking classified ads in Bombay Samachar Mumbai now at your fingertips courtesy online Bombay Samachar ad agencies in Mumbai like www.releasemyad.com
Advantages of book classified ads for Bombay Samachar Mumbai Online :
Instant online classified ad booking of recruitment, property, matrimonial for Mumbaiedition of Bombay Samacharin 3 simple steps.
Enhance your Bombay Samachar Mumbai newspaper ad by choosing tick, screen etc.
Clear payments instantly via online and offline payment mediums to receive immediate confirmation for your newspaper classified in Bombay Samachar Mumbai.